Handover of 30 million face masks to North Rhine-Westphalia
On Wednesday, the Minister of Health, Karl-Josef Laumann, Thomas Wessel (Member of the Board of Management and Labor Director of Evonik Industries AG), Michael Kofler (Managing Director of PSG Procurement Services GmbH), Christian von Daniels (proprietor of van Laack), Werner Dornscheidt (Chairman of the Board of Management of Messe Düsseldorf), Frank Langer (head of the joint task force of the relief organisations Arbeiter-Samariter-Bund, Johanniter, Malteser, Deutsche-Lebens-Rettungs-Gesellschaft and Deutsches Rotes Kreuz in North Rhine-Westphalia) and Marc Kloepfel (Managing Director Kloepfel Group) visited the warehouse for protective equipment at Messe Düsseldorf. Since the beginning of the corona pandemic, the Ministry of Health has ordered protective material on a large scale. Through Evonik's mediation, 30 million respiratory masks have been ordered from PSG and the Kloepfel Group. 28.8 million have already been delivered. Ten million protective gowns have also been ordered from the Mönchengladbach-based company van Laack, of which 1.2 to 1.5 million will arrive in Düsseldorf each week from now on.
Health Minister Laumann explains: "I am very grateful for the support of the companies and quick response in this extraordinary situation. We all know how difficult it is to obtain protective material. But we also notice that the situation is slowly easing now. It has been shown that we in North Rhine-Westphalia can rely on the social responsibility and flexibility of our companies even in times of crisis".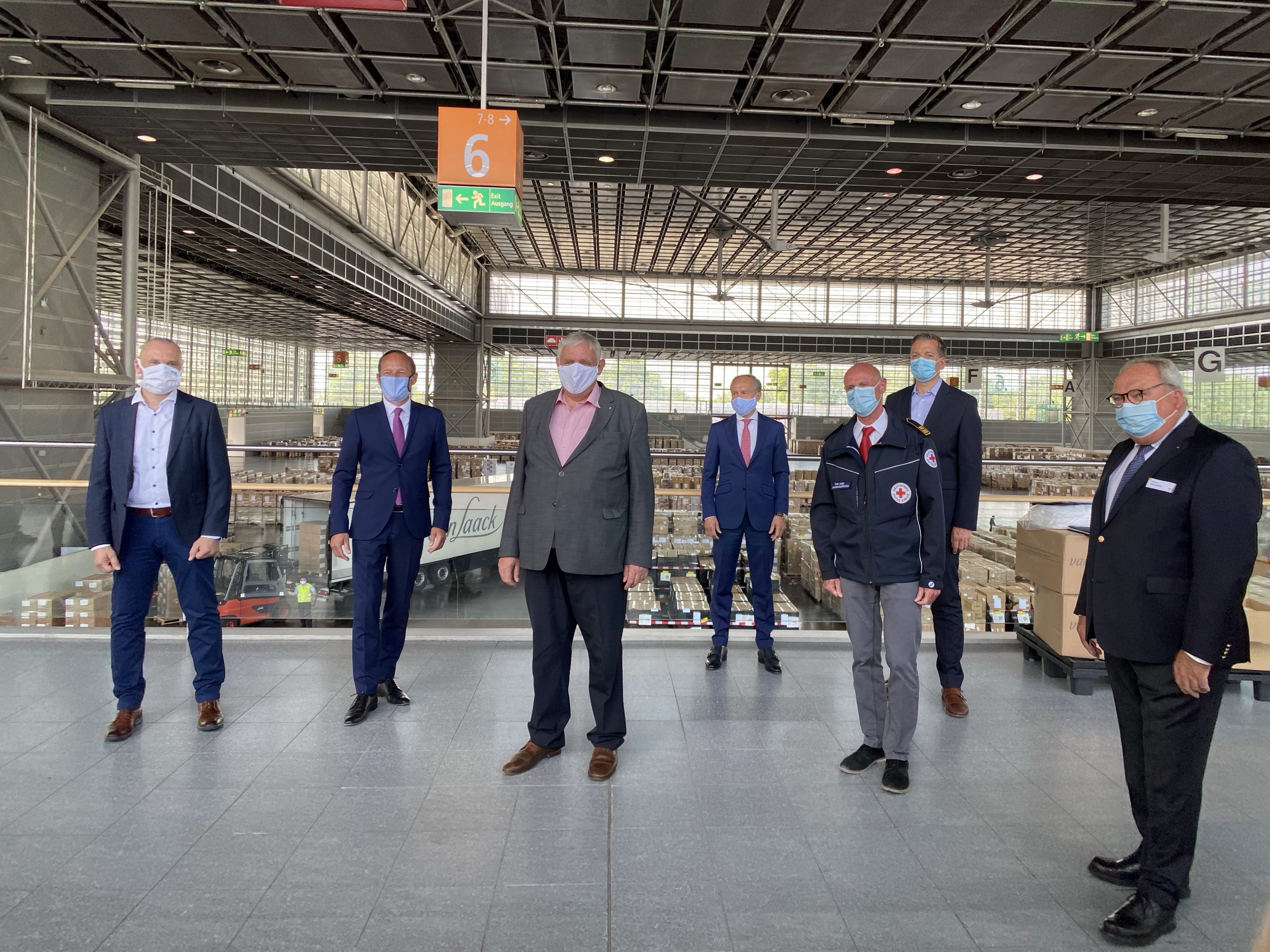 Special thanks also go to the relief organisations ASB, Johanniter, Malteser and DRK, DLRG and Messe Düsseldorf, who have supported the state government with great effort in distributing the protection material. "Without the tireless commitment, the enormous flexibility and the interlocking of all players, this huge task could not have been accomplished," said Minister Laumann. Thanks to close cooperation, it has now been possible to distribute millions of euros worth of protection material via the district governments to the individual districts and independent towns. From there, the protective equipment was delivered to nursing homes, hospitals and institutions for integration assistance. To date, the state government has distributed a total of around 28 million respiratory masks, around 149,000 protective gowns and suits, around 860,000 protective glasses and visors, 1,000,000 gloves, around 1.20 million test kits and around 137,000 litres of disinfectant. Further material from federal supplies was distributed.
Thomas Wessel, member of the Executive Board and Labor Director of Evonik Industries AG: "As part of the chemical industry, Evonik is affected by the corona crisis like all other companies. The chemical and pharmaceutical industry is one of the most important pillars worldwide, especially now, when it comes to fast, pragmatic solutions for medical products and their procurement. Evonik and its partners have been involved in contributing their know-how and network to the procurement of protective masks. Chemistry helps! It is now clear that functioning industrial networks not only create prosperity but are also systemically relevant when it gets tough."
Michael Kofler, Managing Director of PSG: "PSG, as a long-standing purchasing service provider for many Dax corporations and large medium-sized companies, has been confronted with the sometimes dramatic demand for various pandemic protection articles since the first days of this crisis and has taken up this challenge. Of course, we immediately responded to the request of our customer Evonik to also support the state of North Rhine-Westphalia in the procurement of the urgently needed masks. Working in close cooperation with our partner, the Kloepfel Group, we were able to set up a quality-assured airlift to China in the shortest possible time, bringing 30 million masks for hospitals and nursing homes into the country within eight weeks.
Christian von Daniels, owner of van Laack explains: "Already in January of this year, the van Laack Group started the development and production of protective clothing, especially textile mouth-nose masks. A success story with more than 40 million units in April and May 2020, 1.25 million for example, for the police of North Rhine-Westphalia. In close and pragmatic cooperation with the government of North Rhine-Westphalia, extensive capacities for innovative nonwoven materials 'made in Germany' have been established. These form the basis for a reliable, continuous 'just in time' supply of high-quality protective clothing, especially for the medical sector – even after Corona. Today, we are handing over one million surgical gowns to the North Rhine-Westphalian state government, as a prelude to another nine million pieces in June. For clinics, old people's homes and nursing homes, we are now offering a 'Never out of Stock' delivery service for the protective clothing programme from our factories and warehouses in Germany".
Frank Langer, head of the joint task force of the relief organisations, explains: "As a single point of contact, we are in a position to work together with the Arbeiter-Samariter-Bund, Deutsche-Lebens-Rettungs-Gesellschaft, Johanniter Unfall Hilfe, Malteser Hilfsdienst and the German Red Cross to identify needs in a bundled manner, to evaluate requirements and to provide targeted help using the existing networks in all districts and cities.
Marc Kloepfel, CEO of the Kloepfel Group: "In addition to the global challenges in the procurement of protective material, we were working against the clock. After all, it was all about protecting human lives. Thanks to our experience from more than 1,000 purchasing projects with Hidden Champions and concerns, we were able to act immediately together with PSG and Evonik. Both in setting up the airlift and in qualifying reliable suppliers. It should also be emphasized that, despite the difficult markets, the state of North Rhine-Westphalia has taken responsibility for quickly equipping clinics and care facilities with the necessary protection against the virus".
Messe Düsseldorf is providing around 30,000 square metres for the storage of the protective material. Werner M. Dornscheidt, Chairman of the Board of Management of Messe Düsseldorf, emphasises the importance of this commitment: "As a rural and urban subsidiary, we see it as our social responsibility to support the state of North Rhine-Westphalia with our expertise in these difficult times. We see ourselves not only as a partner to industry and a promoter of the economy, but also show with our local commitment that we are taking on social responsibility. It must be the goal of all of us to slow down the spread of Covid-19 and to protect from infection in the best possible way, especially in the health care sector. If we can make even a small contribution to this, we are more than willing to do so.
With a view to possible future pandemic situations, Minister Laumann emphasises: "We must learn from the experience gained and not allow ourselves to be lulled into a false sense of security. One thing is therefore clear to me: The topic of protective equipment must be on a firm footing in the medium and long term. I do not want to have to fight again for products on the world market whose costs should be in the cent range. On the one hand, decentralised state depots at municipal level are intended for short-term requirements. On the other hand, we will seek talks with the federal government and North Rhine-Westphalian companies to discuss strategies for increasing domestic production capacities." In coordination with the federal government, the state is already discussing concepts to secure the supply of protective equipment in the long term and to establish its own production in this area.